The Special Edition Samurai Kanji GI from Submission Sniper Co. featuring ripstop
Ripstop pants, lapel, stitch tape
Double material knee pads
White pant rope
Reinforced stress points on jacket and pants
Sizing - if you are between sizes or not sure which to chose i.e. A2 and A3, we always recommend choosing the LARGER SIZE.
A1: 5'4" - 5'8", 1,60 - 1,70m, Max 75Kg (Typically wears small mans t-shirt)
A2: 5'8" - 6'0", 1,70 - 1,80m, Max 85Kg (Typically wears medium mans t-shirt)
A3: 5'11"- 6'1", 1,80 - 1,90m, Max 95Kg (Typically wears large mans t-shirt)
A4: 6'1" - 6'4", 1,90 - 2,00m, Max 120Kg (Typically wears XL mans t-shirt)
A5: 6'1" - 6'5", 1,90 - 2,00m, Max 120Kg+ (Typically wears XXL-XXXL mans t-shirt)
Pant Lengths Outside Leg Approx.
A1: 92 cms, waist 52cm
A2: 96 cms, waist 55cm
A3: 100 cms, waist 58cm
A4: 105 cms, waist 62 cm
A5: 108cms, waist 65cm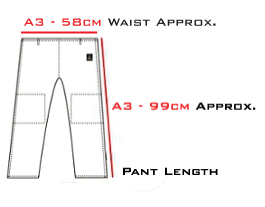 Washing - We recommend washing cold for short time periods
preferably hand wash cold for extra longevity and colour hold. Hang dry only, if you have to spin dry (
not recommended
as cotton fabrics are prone to shrinkage and greater wear) please use lowest setting.